a geophilosophical exploration of our inner world


A MULTICULTURAL EXHIBITION

THE MAZE OF EXISTENCE
AND THE TREE OF LIFE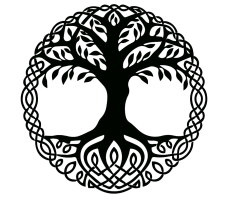 4th – 9th of November

at The Nehru Centre

London

Man in the World – The World in Man is a journey of self-discovery to explore universal common principles that have been expressed in different cultures around the world, clothed in local forms, languages and traditions, but always representing the same Universal Truth.

Who are we? Where do we come from? Where are we going? What is the purpose of our existence? Different cultures of the world have always provided answers to these questions but hidden them in the form of symbols, in arts and legends. This exhibition will explore various symbols found in many traditions and mythologies. Is there a key to understand these symbols?






THE MAZE OF EXISTENCE

The Labyrinth or the Maze represents the confusion of different theories and beliefs surrounding us in life. It therefore also represents the difficult path we have to traverse in order to find the purpose of our existence.


"The only one that can solve the labyrinth of yourself is you." – Jeremy Denk






THE TREE OF LIFE

A Sacred Tree is a motif present in several religions and mythologies serving as a representation of creation. It consequently depicts the multiple dimensions of the Universe and the unknown inner life of Man.


"With the roots above and the branches below stands the eternal fig tree. That is the pure; that is Brahman, that indeed is called the nectar of immortality. In it all the realms rest and nothing whatsoever transcends it. This, verily, is that."
– Katha Upanishad


The initiative to this Exhibition has been taken by members of the Geophilosophical Association in Gothenburg, Sweden. Our intention is to inaugurate the Exhibition in London and after that to build it up again in cities around the world where there are other Geophilosophical Associations.